Saint Valentine's Day is not a laughing matter for a people in love, but in Croatia it is a perfect day to tell often quoted joke from the legendary comic book Alan Ford: "Buy some flowers for the woman you love, but do not forget about your own wife, either!"
Heart-shaped island is the real thing
Aside from this joke, the first thing that comes to mind among "love-related stuff" in Croatia, is surely the island of Galešnjak. It is also called Island of Love and Lover's Island, and is one of the world's few naturally occurring heart-shaped objects.
The island's unusual shape was first recorded in the early 19th century by Napoleon's cartographer Charles-François Beautemps-Beaupré, who included it in his 1806 Atlas of the Dalmatian coast. It is privately owned and located in the Pašman Canal of the Adriatic, between the islands of Pašman and the town of Turanj on mainland Croatia.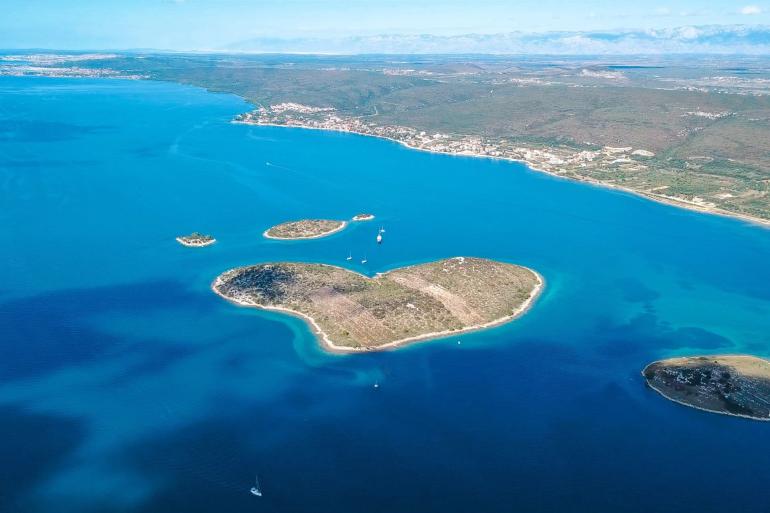 Photo: Aerocaminua
Aerial view of beautiful heart-shaped Island of Galesnjak, also called Island of Love
The second famous Croatian love related highlight is surely the Museum of Broken Relationships that lies between Saint Mark's Church and Saint Catherine's in Zagreb's Upper Town. Pieced together from people around the world, the curated collection reflects diverse perspectives from coming-of-age to family bonds that failed. It might be just the opposite of what Valentine's Day stands for, but it's still a better choice for paying a visit than nearby Museum of Illusion or the Museum of Torture.

Hand-made heart of dough
Licitars are another famous thing related to love in Croatia. If you wish to share your affection in the Croatian way, Licitar is the way to go. It is a heart made from dough, coloured in vivid palette usually with glass ornaments. Have your names written in them and bring them home to cherish. They are often decorated with a mirror in the centre, representing the presence of the receiver in the Licitar-giver's heart.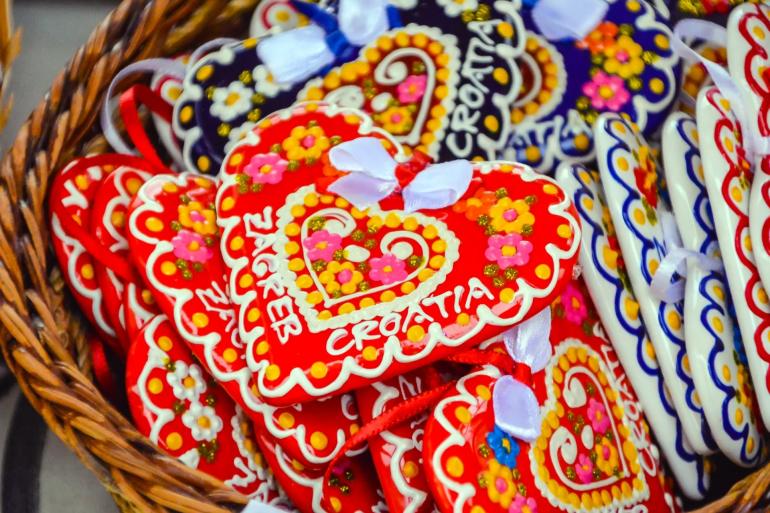 Photo: Goran Vrhovac
Licitar, a handmade traditional souvenir. Each one is hand-decorated in colourful, traditional designs
Preparation of licitar is quite complicated. After each step in the preparation process – making the dough, baking the dough, colouring the dough, and decorating the cookies – the dough is left to dry. Each licitar is hand-decorated in colourful, traditional designs.
One more important thing...
There are some old customs and superstitions in Croatians folk tradition that are related to St Valentine's day. For example, if a girl sees a robin on St. Valentine's day she will get married to a sailor, and a sight of a lowly sparrow on St. Valentine's day means she will get married to a poor guy. To get married to a rich guy, all she needed to see was a goldfinch.
Getting back to present time, there is one thing for you to keep in mind if you happen to be in Croatia on Saint Valentine's Day - "Volim te" means "I love you" in Croatian!