While Zagreb may not appear to be as glamorous as some other European metropolia with richer Christmas Markets traditions, you can't fail to recognise that the Advent in Zagreb offers a truly intimate Christmas ambience. Twinkling candlelight, vivid decor, street meals and drink, performances, choirs… The narrow city alleys and town squares appear quite relaxed and low-key but warm. They are simply ideal for spending a remarkable family time.
#How long does the Christmas Market in Zagreb last?
Christmas Market in Zagreb opened on December 1 2018 and closes on January 6 2019. It has spread to some novel locations in the city and organisers are insisting that this year will be the most memorable to date.
Photo: Davor Rostuhar
Zagreb's outdoor ice skating rink on King's Tomislav square is a good place to start exploring the Christmas Market
#What is Advent anyway?
The word Advent indicates the arrival of Christmas, and originates from the Latin term "adventus", marking the beginning of the spiritual year for Christians.
In 2018, Advent started on December 2nd and is celebrated for four Sundays before Christmas, but some people in Croatia start preparing even sooner - on St. Catherine's Day, known as Sveta Kata in Croatian.
Every Sunday of Advent has a varied spiritual theme and frequently involves the ceremonial lighting of an Advent candle in anticipation of Christmas and the nativity of Jesus.

Approximately 86% of the people in Croatia declare themselves as Roman Catholics, and Advent is a large part of religious life.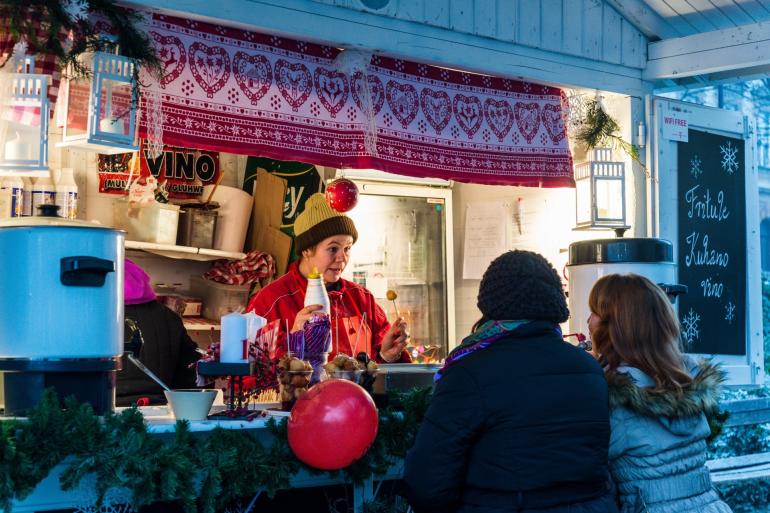 Photo: Bjanka Kadić
Variety of street food and spicy mulled wine will keep you warm while you are strolling the streets of Zagreb
#What you should see outside of Zagreb?
The City of Zagreb officials decided that all city buses and trams will be free throughout weekends until Advent ends on 6 January 2019.
And if you visit Zagreb during the Advent time, you might want to visit two quite special nearby places.
Salaj Land is an authentic family run rural household, a winter wonderland attraction, only one hour drive from Zagreb. This unusual Christmas Park used to be lit up with more than 2.5 million multicolour lights, but this year they installed staggering 4 million Christmas lights to work.
Many Christmas decorations, trees, bridges, Rudolf the Red-Nosed Reindeer, elves, hooves and penguins glow through the night. Last year's event at Salaj Land brought more than 120,000 guests, and this year's event promises to be even larger. Salaj land is opened until January 13th.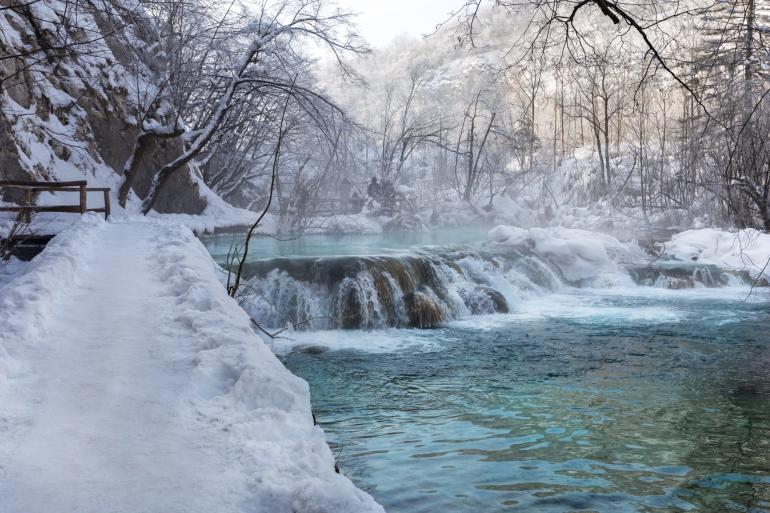 Photo: Radu Cadar
Take a trip to Plitvice Lakes National Park. When the waterfalls totally freeze over, the sights are breathtaking
#And one more thing...
The other go-to place is definitely UNESCO protected Plitvice Lakes National Park, just south of Zagreb.
Although wintertimes can be very harsh, Plitvice Lakes is still one of the greatest places to visit in Croatia. When the waterfalls totally freeze over the sights are positively breathtaking.
Astonishing landscape, fresh air, nature's sounds and the utter joy of just being someplace so immense and distinct.
Or just stay in Zagreb and take your time sampling the mulled wine and street foot, while roaming around. It is the greatest Christmas Market in Europe three times in a row, after all.
Remember that if you'd like to say Merry Christmas in Croatian you need to say Sretan Božić. Don't bother looking how to pronounce that - you will never get it right, but people will appreciate the effort.