In Croatia, wine dates back some 2,500 years. Back then, Greek settlers brought grapes to the coastal areas of Dalmatia, and later, Romans picked up the tradition.
The Greek writer Athenaeus wrote 18 centuries ago about the high-quality wine produced on the Dalmatian islands of Vis, Hvar and Korčula. Ancient coins from the classical period have motifs related to grape cultivation and wine, demonstrating the importance of wine in the economics of the old Greek colonies on the Croatian coast.
In 1994, grape geneticist Dr Carol Meredith discovered that Zinfandel is identical to Croatia's Tribidrag
Under the Roman Empire, wine production grew, becoming more organised. Therefore, it's no wonder that many traditional, indigenous grapes used initially in winemaking are still popular today, as they perfectly suit the Croatian climate.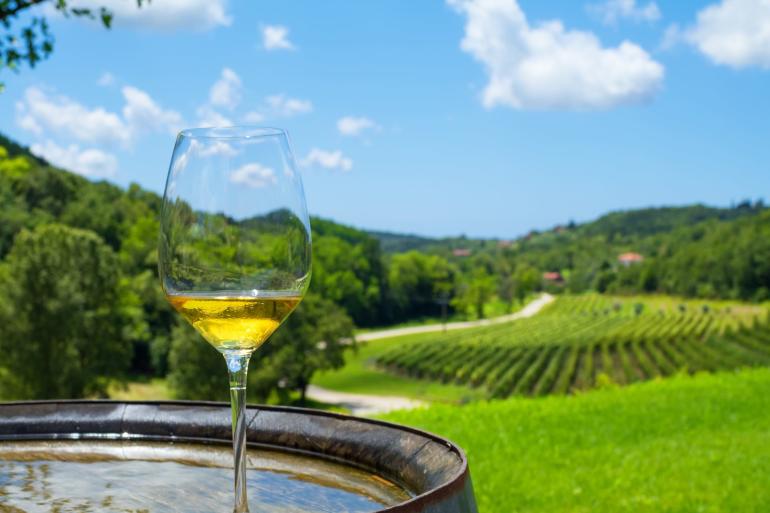 Photo: Phant
Istria is best known for its native Malvazija Istarska grapes. These grapes are grown in the terracotta rich red soils
When you taste local wine in Croatia, it might have a familiar world-class bouquet, colour and aroma. It's just that their names are sometimes hard to pronounce.
You probably already had a wine originating in Croatia, only you didn't know it! In 1994, grape geneticist Dr Carol Meredith discovered that Zinfandel (also known as Primitivo) is identical to Croatia's Tribidrag (or Crljenak Kaštelanski). Tribidrag is the parent grape of Croatia's most famous red wine, Plavac Mali.
Having an expert organising everything is best if you'd like the perfect experience
So, if you love Zinfandel, you already love Plavac Mali! Croatian Zinfandel is said to be dryer than its American counterpart and softer than the Italian, making it a bucket-list must-try for Zin-lovers.
With that out of the way, let's dive into Croatian wines, wine regions, wine roads and how to experience them all.
Old World wine
Croatia is a part of the "Old World wine" circle, referring primarily to wine made in the countries of the Mediterranean basin with long histories of winemaking. These include France, Italy, Spain, Hungary, Portugal, Germany, Lebanon, Croatia, Israel, and a few others.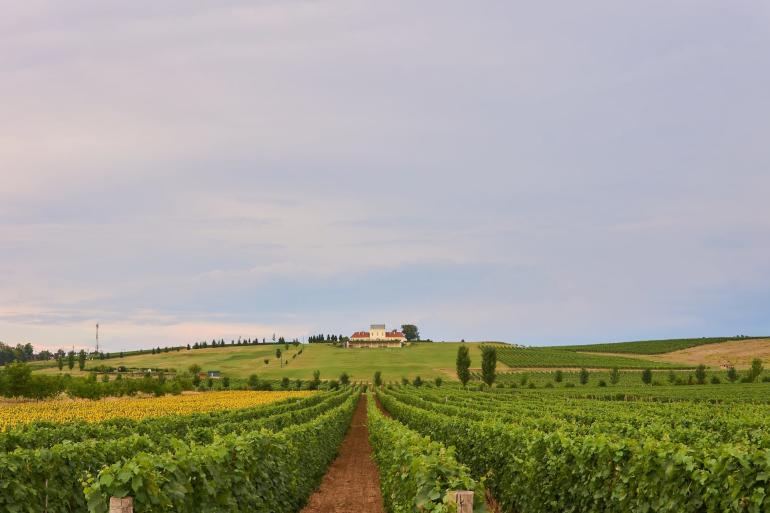 Photo: Ivan Milaković
Ilok, the town in eastern Croatia on the Danube River, has a unique terroir with ideal conditions for vine cultivation
Croatia has four main wine regions – Croatian Uplands, Istria and Kvarner, Slavonia and Podunavlje, and the Dalmatian wine region. There are also sixteen sub-regions and 66 appellations, each with a different climate. Croatia employs a strict classification system with over 300 geographically defined wine regions to ensure quality and origin. With such numerous varieties available, it is best to consult a trip designer to get exactly the experience you need. It is easy to stray away by exploring on your own. Also, despite proprietary classification systems, Croatian wines don't follow an Appellation d'Origine Contrôlée or Denominazione di Origine Controllata like Spain, Italy, or France - which can complicate understanding of a wine's grade or origin. So, having an expert organising everything is best if you'd like the perfect experience.
Countless local varieties
Out of thousands of wine varieties in the world today, some 200 are produced in Croatia's 800 wineries, making it a rich wine country. Best autochthonous sorts include Plavac Mali, Graševina, Malvazija Istarska and Teran, but international varieties such as Chardonnay, Cabernet Sauvignon, Muscat, and Riesling are also locally produced.
One day you can be be endulging yourself in wild game stew and guzzling heavy red wines by the Hungarian border, the next sipping crisp whites and twirling a noodle of truffle tagliatelle in Istria as you gaze out over the Adriatic towards Venice.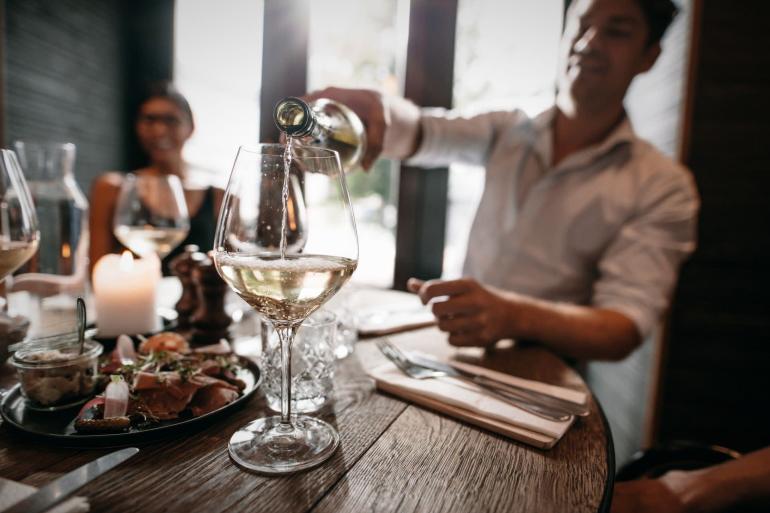 Photo: Jacob Lund
Get the full culinary experience of Croatia by participating in a culinary workshops and exploring the wine roads
We already mentioned the most famous Croatian wine - Plavac Mali, but Pošip is also quite well regarded. It is a full-bodied white wine with subtle almond notes, often crisp with flavours of apples, vanilla spice, and citrus fruit. In the past, Pošip grew only on the island of Korčula. Still, today it is spread around Dalmatia – Pelješac peninsula, the islands of Brač and Hvar, Pakleni islands, the Korlat region, and the Biokovo slopes.
'The most feminine of all grapes'
Malvazija Istarska is a refreshing white wine with a spice note usually found in Istria and the northern Dalmatian coast. Sometimes it's called Malvasia Istriana, although it's not the same grape as Malvasia from Italy. These wines are refreshing and usually dry, with lower alcohol content and aromas of fennel, quince, honey, apricot, and spice. Teran is an indigenous Istrian red, similar to Refosco in many ways. Earthy, full-bodied and robust red wine is a bit lighter and more acidic than Dalmatian reds, making it somewhat more food-friendly for certain Istrian-styled kinds of pasta.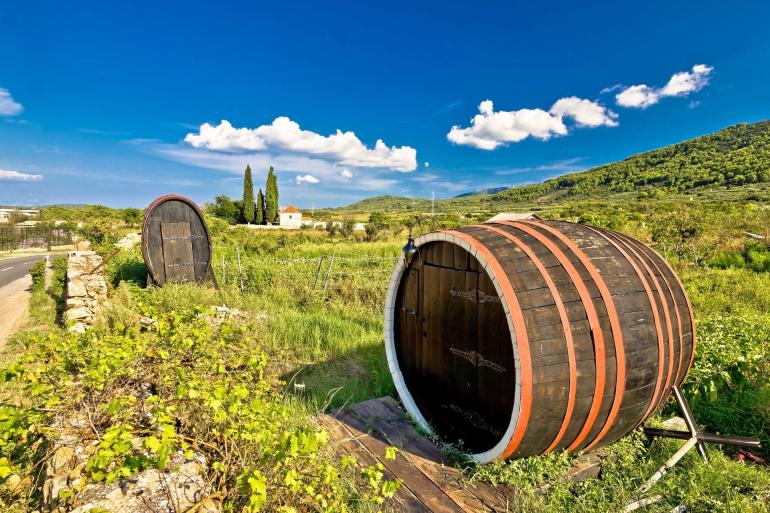 Photo: Brch
Wine barrels on Stari Grad plain, UNESCO world heritage site in Hvar island
Teran generally has high tannins and should evolve over a few years. In Italy, Teran is called Terrano. Grk is difficult to pronounce dry white wine with peppery pear notes with a touch of melon, herbs, and sliced pear. The variety is indigenous to Croatia and is only found in sandy soils close to Korčula island. Grk is often called "the most feminine of all grapes" because it only has female flowers and must be planted next to other varieties to pollinate.
The most straightforward way to explore many wineries is by basing yourself in one spot
Graševina is medium-bodied aromatic white wine, typical for Central Europe, where it is known as Welschriesling. Dry, fresh, aromatic white wine with apple-like notes, Graševina is one of the most popular white wine grapes in Croatia.
Trip based on your input
Planning a wine-tasting trip has its challenges. Autumn is the best time for wine travel in Croatia; the harvest is in full swing, and long, balmy evenings provide ample time for socialising and wine tasting. The most straightforward way to explore many wineries is by basing yourself in one spot and then exploring with a car (and a professional driver, of course). Plotting the right path for your wine-tasting vacation is not only time-consuming, but with so many resources at your fingertips online, it can be pretty overwhelming simply determining where to start. That's why RealCroatia's trip designers will hear you out and prepare a perfect wine-tasting trip based on your input, preferences and budget.