Croatian president Kolinda Grabar-Kitarović has been praised by fans from around the world when she was caught on camera cheerfully dancing in front of her host, the Russian Prime Minister Dimitri Medvedev, after Croatia beat Russia on penalties in the quarter-finals of the FIFA World Cup. Previously, she was seen taking the economy-class flight to Russia, only to join ordinary fans in the stands, jumping and singing with them after Croatia beat Argentina in the group stage.
"I wanted to showcase that I am a football fan, like everyone else; I wanted to support the team among other fans in the stands. I put on a shirt with national symbols, whereas the dress code in the VIP zone, which usually presupposes long gowns, wouldn't have permitted such an outfit", the Russian website Sportbox quoted Kolinda Grabar-Kitarović.
The people of Croatia, however, are used to the sight of their president in the national team jersey, as she is seen as a regular fan in handball, water polo, basketball and football matches of Croatian national teams.

So, who is Kolinda Grabar Kitarović and where is she from?
In February 2015, Kolinda Grabar-Kitarović was elected the first female president of Croatia, and fourth overall. She is 50, married to Jakov Kitarević and mother of two teenagers – 17-year-old Katarina and 15-year-old Luka. Kolinda is a polyglot, fluent in Croatian, English, Spanish and Portuguese and understands German, French and Italian.
Being born in the coastal city of Rijeka might explain for her fiery temperament. After all, Rijeka is known as the city of Rock'n'Roll with numerous pubs and a vivid mix of Croatian and Italian culture.

Croatian president Kolinda Grabar Kitarović celebrates with members of Croatian national football team after a dramatic win over Russia
What did she do before she became president of Croatia?
After working at the Croatian Ministry of Foreign Affairs, Kolinda Grabar-Kitarović was elected in 2003 as a member of Sabor, Croatian Parliament. Later that year, she took the hot seat of the European Integration Minister in the government led by Prime Minister Ivo Sanader, and in 2005 she was appointed Foreign Minister and European Integration Minister.
In 2008, Kolinda Grabar-Kitarović became Croatia's Ambassador to the US. Three years later, she became the first woman to be appointed Deputy Secretary-General to the Secretary General of NATO.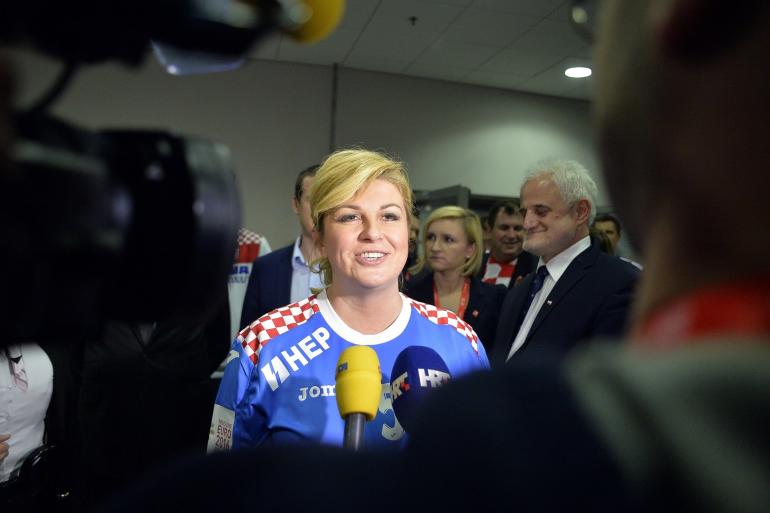 Photo: MediaPictures.pl
Croatian president was often seen wearing national colors in Poland on European Handball Federation EURO 2016
Are people from Croatia also crazy about football like Kolinda Grabar Kitarović?
There's just one way to find out. Visit Croatia and get to choose your destination based on the player you prefer. If you like Real Madrid's midfielder Luka Modrić, then ask people in his hometown of Zadar, a coastal city with great history. And while you're there, check out the nearby Velebit mountain and its trails.
If you are a fan of Monaco's goalkeeper Daniel Subašić, then Šibenik with its fortresses is the choice for you.
Do you prefer Slavonia? How about checking out the wines and food of Osijek, a city that also gave the world a former prodigious striker and the World Cup Golden Boot, Davor Šuker? Let us spoil this for you – yes, Croatians are crazy about football, but you'll have to see it for yourself to believe it.