Vis is the furthest permanently inhabited Croatian island, situated an hour and a half of a catamaran ride from the Dalmatian regional capital Split. Although it is famous for many things and is a go-to place for those searching for relaxation, Vis is even more famous for lacking certain things. It is the mirror opposite of Ibiza or Zrče type of nightlife; it features no big hotels, lacks cheap souvenir stalls, backpacker cruises or inflatable water playgrounds.
It feels different there, slower and more intentional. Vis is somewhat secluded, and there's only one hotel with sparse private accommodation.
As a former Cold war secret naval base, Vis was closed entirely to civilians until 1991. and thus totally preserved
The archipelago consists of several smaller islands like Biševo, Sveti Andrija, Jabuka, Brusnik and Palagruža and several islets, reefs and rocks. The closest islands to Vis are Hvar (18 km), Korčula (33 km) and Lastovo (55km). The climate on the island is typically Mediterranean, with long, hot and dry summers and short, mild winters; the average annual temperature is 16°C.
Photo: Brch
Historic stone-built streets and houses of Vis town are a perfect example of what Mediterranean used to look like
As a former Cold war secret naval base, Vis was closed entirely to civilians until 1991. and thus totally preserved. That is why the island feels more like how tourism in Croatia used to be and still epitomises the Mediterranean lifestyle. Vis feels much more exclusive than other Croatian islands and attracts a different cadre of travellers.
History of Vis
Vis island has a complicated, multicultural history, being ruled by the Greeks, Romans, Venetians, Austrians, Italians, Hungarians, as well as the English and French. The most prominent generals and commanders walked the island of Vis, the Allied forces landed their planes there, and naval battles took place there, and it shows - the sea around the island is full of wrecked ships. Vis was strategically important. When under the control of England, it was known as the key to the Adriatic, the Adriatic Gibraltar, and most commonly as little Malta.
Whether small sailboats or massive yachts, seafarers of all kinds treasure Vis as an Adriatic getaway
Vis is recognised as one of the most fortified islands, and its role as a strategically important location is reflected in the numerous forts, underground tunnels and military bases. Find out why, throughout history, many militaries fought for control over Vis, and with the help of professional guides, explore this mysterious island. In the 1920s, Vis became part of Yugoslavia; in 1940, it was converted into a military base and one of Tito's favourite hideouts.
Vis was closed to visitors for the next 50 years. In 1989, Vis was abandoned as a military base; in 1991, Croatia became independent, and Vis opened to tourism for the first time in decades.
Photo: Stjepan Tafra
You can visit the military tunnels and fortifications as part of a quad biking island safari
Today, Vis welcomes tourists during the summer months — but it's especially popular as a sailing destination. Whether small sailboats or massive yachts, seafarers of all kinds treasure Vis as an Adriatic getaway.

Blue Cave and Green Cave
The Blue Cave is the most famous attraction in all of Vis. It is located on Biševo Island, a tiny islet off the coast of Vis. The endless azure illumination is a trick of the light, and the effect is only roughly from 11:00 AM to 1:00 PM. For this reason, it can get very crowded at the Blue Cave during the summer months, and you might be sharing your visit with a few other boats. The stay is short, lasting about five minutes.
If you're spending time at the Blue Cave, it's worth checking out more of Biševo Island, the island southwest of Vis! On the other side of the island from the Blue Cave, you'll find Porat Beach, which makes a nice stop for a swim.
Unlike the Blue Cave, you can swim and snorkel in the Green Cave
Porat Beach is partially sandy and partially pebbly, with calm, shallow water that is especially good for young kids. On the beach are two restaurants serving up a simple fare — fish and chips and the like.
Biševo Island is a stop on the aforementioned full-day boat tour around Vis, and you'll see many sailboats dropping in for a few hours of beach time.
Photo: Stjepan Tafra
The interior of the Blue cave and the sea inside it are illuminated with an indescribable silver-blue light
Vis's Blue Cave might be more famous, but don't overlook the Green Cave! This cave is located on the islet of Ravnik, just south of Vis island, and it's part of many tours to the Blue Cave and boat tours around Vis. A trick of light illuminates the cave in green.
Unlike the Blue Cave, you can swim and snorkel in the Green Cave, and it resembles the cenotes in Mexico. Toward the back of the cave, there's a rocky ledge that you can climb, even jump into the water!
Military Tunnels
The military tunnels are the most unique thing to do in Vis, Croatia. The island's military base may have been closed for 30 years, but these tunnels still exist! Where else are you going to find military tunnels on an Adriatic island?
You need to do this activity with a guide as it's not safe to do it independently. A guide will give you a flashlight and helmet and lead you through the maze of tunnels, teaching you about Vis's military history. Breaking out of the darkness onto the sea's edge is a feeling you won't find anywhere else in Croatia.
Are sailboats allowed in the submarine tunnel? No, but they sail-in just fot the fun of it!
This highly-rated tour takes you into the military tunnels and Tito's Cave and stops at Hum Mountain, the highest peak on Vis island.
Alternatively, you can visit the military tunnels as part of a quad biking safari!
Photo: Sandra Mori
Big enough to shelter submarines up to 110 metres long, the secret submarine base located in Parja Bay near Vis town is now a shelter for curious tourists
The submarine tunnel is one of the most famous shots of Vis! This tunnel was part of the strategic military bases around the island.

Are sailboats allowed in the submarine tunnel? Technically, no, they're not. Does that stop them from going in? Nope! It seems like most boats sail on in for novelty.
Stiniva and other beaches
Stiniva Beach is lovely — but you don't want to make the hike down (or swim in) every day! Luckily, there are plenty more beaches on the island of Vis that are more accessible.
Grandovac Beach is just east of the Kut neighbourhood and a great option if you stay in Vis town. This pebbly beach gives way to clear blue water and has views of ferries and sailboats. Srebna Beach, on the southeast edge of the island, is more isolated yet one of the most beautiful spots on the island.
Zaglav Beach, close to the Milna bay, is home to a sandy beach — rare in Croatia!
Stiniva Beach was voted the most beautiful beach in Europe by the European Best Destinations website among close to 300 most beautiful European beaches. You descend a rough path downhill and see a rocky beach laid out before a series of cliffs, out of which you can swim into deeper water.
If you dont feel like walking arount the island, just take a boat tour
Is it stunning? Absolutely! If there's a beach to visit on Vis island, this is it. But you should know that it's a bit of a challenging hike down. It's doable for active people, even school-aged kids, but not recommend it if you have mobility challenges. However, there is another option — taking the boat tour around Vis.
Mislaw
Stiniva Beach on the south side of the island has been voted the most beautiful beach in Europe by the European Best Destinations website
You dock your boat near the beach and swim to shore. Lots of different places worldwide claim ownership of the term "Blue Lagoon" — from Tahiti to Malta to Iceland — and the island of Budikovac is home to the Blue Lagoon of Croatia. The endless blue waters here make for a beautiful swim spot on a day trip from Vis, and it's one of the best spots for drone shots!

Hum Mountain
If you're looking for a great sunset view in Vis, head to Hum Mountain! This is the highest point on the island, and it has excellent views over the town of Komiža as the sunsets.
Try excellent local wine varietals - Plavac Mali (red), Kurteloška (white) and Vugava (white)
Close to Hum Mountain is Tito's Cave, the cave where Tito planned out many of Yugoslavia's military strategies. Admission is free to both the mountain and the cave.
Wine Tasting on Vis
Like nearly every other island in Croatia, Vis dabbles in a bit of winemaking. It might not be as lauded as the wines of Korčula or Pelješac, but you will find some excellent local varietals here: mostly Plavac Mali (red), Kurteloška (white) and Vugava (white).
Photo: Stjepan Tafra
Besides autentic wines produced on the island of Vis, do try other first-class Dalmatian wines
There is also the unique winery housed in a cave that was once a military installation during the time of Cold-war Yugoslav leader Josip Broz Tito. Most local restaurants will be happy to point you to the island-grown wines, and shops in Vis town and Komiža advertise tasting sessions.

Stand Up Paddleboarding
If you've never tried to stand up paddleboarding (SUP) before, Vis is an excellent place to learn. This lesson for beginners takes place in calm Milna Bay on Vis and takes you on a bit of an area tour. Even better?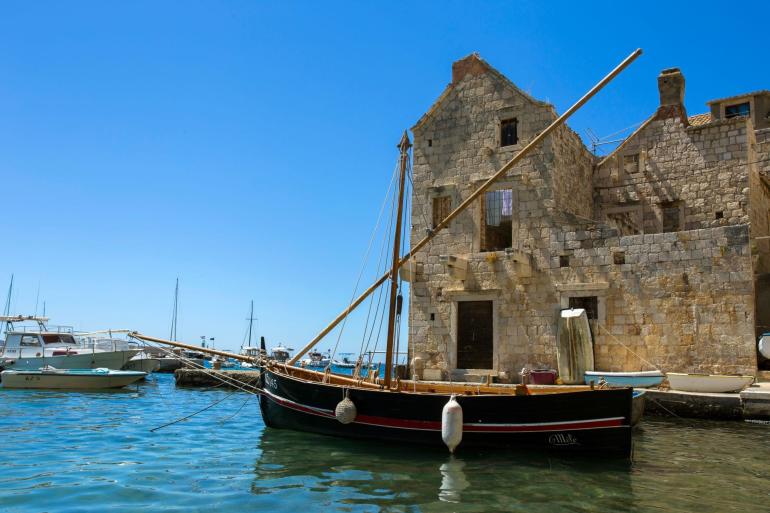 Photo: Nino Pavišić
The gajeta falkuša is a boat of remarkable maritime capabilities, and, due to its elegant hull and a lateen sail, it is able to achieve speeds up to 12 knots
Try a SUP yoga class! It's a fun way to be active and connect with yourself while trying a new activity. Most of the scenes of Mamma Mia! Here We Go Again was filmed in the sheltered bay Barjoška, on the west side of island Vis.

Sailing in Komiža Bay on Falkuša
Falkuša is a traditional fishing boat used by fishermen from the town of Komiža. In the 16th century, in Komiža bay, more than a hundred falkuša boats were operating. Komiža was the centre of the fishing industry in the Adriatic. Five crew members were sailing to the most distant locations using sails and rows. Sailing to the remote island of Palagruža is the oldest known off-shore regatta in the Mediterranean.
Scuba diving
Vis is a popular destination among Scuba divers, and diving is possible year-round. The island features a diverse underwater world, so divers can explore vertical rocks and walls falling into the abyss, numerous caves, canyons, sunken ships, planes and submarines.
Photo: Stephan T. Schuldi, ScubaLife
Teti is a cargo ship wreck that sunk to the depth of only 10 meters and goes down to 34 meters, making it suitable for Scuba divers of all categories
Some of the wrecks are suitable for beginners, which is especially true for the nearby small island of Host, where sunken ships and several broken amphorae can be seen. Most popular dive sites Among the most exciting dive sites such shipwrecks as Teti, Vassilios, Brioni, Fortunal, while diving on WW2 B-24 bomber is reserved for technical divers due to a depth of some 70 meters.

Towns of the island - Vis and Komiža
There are two main towns on the island: Vis town and Komiža. Most travellers stay in one of these two towns, though some elect to be in a more isolated environment. Both towns are solid choices. Vis town is more prominent and convenient as the ferries arrive there and many tours depart.
Photo: Damir Zurub, ScubaLife
In the early 20th century many fishermen from Komiža emigrated to America and settled in Washington state
Komiža tends to have a bit more of a celebratory atmosphere. While there were all kinds of travellers, it feels like there are more groups of partying young adults here, though nowhere on the level of Hvar. It's not as polished or classy, but it's a lot of fun. And it tends to be a bit cheaper than Vis town.

Vis is a perfect spot if you are looking for a secluded Mediterrannean escape
In fact, if you're spending several days in Vis, you might enjoy staying in both towns! Many sailing routes have one night in Vis town and one night in Komiža.
The Island of Vis currently attracts far fewer tourists than the other Croatian islands, not because it is not stunningly beautiful, but because it is not well-known. If you are looking for a secluded escape, Vis is the perfect option.