The European Union has decided not to allow U.S. travellers into the E.U., but individual member nations can revert that decision, and it appears that Croatia has done just that in regards to Americans.
"Tourists must provide proof of paid local accommodations, such as a booking confirmation. If you're staying with family members, share the address so that officials can reach you if needed. RealCroatia is a travel agency organizing customizable theme-based travel experiences in Croatia and we handle all the work for our guests", says Petra Gracin, the CEO of the RealCroatia.com travel agency.
Trips to Croatia are organized by RealCroatia specialists in just a few e-mails or phone calls
She points out that many tourists find it simpler to seek advice from travel consultants who then take input from the travellers, and then organize every detail based on each person's specific requirements.
Customisable itinerarary
"Our customers mostly prefer to let us know what they are looking for, and then our trip specialists provide them with a personalised itinerary. Usually, after a mail or a phone call, everything is arranged. Americans appreciate our local 24-hour customer service as well as the expert guides and the whole trip logistics we provide for them", explains Petra Gracin.

Photo: Yevgeniy Biletski
Adriatic coast and islands are known for some spectacular coves, often accesible only by boat
There are many things travellers love about Croatia and Adriatic.
Plitvice Lakes might be one of the most spectacular national parks in Europe, but it is far from being the only place to visit for a nature lover. Nine per cent of Croatia's landmass is designated as a natural protected area. Among the 444 protected areas of Croatia, there are 8 national parks, 2 strict reserves and 11 nature parks.
Active vacation
Five national parks you can visit offer a mix of everything you love, from mountainous sceneries, famous lakes and waterfalls to streams and numerous "photo opportunity" locations. There is no such concentration of natural wonders and protected areas anywhere else in Europe, and Croatian nature just calls for an active vacation.
Croatia is best know for Dubrovnik, Plitvice Lakes, the Adriatic coast and islands as well as a place of exceptional food and excellent hosts
While you may not identify as an "architecture buff", surely you are a traveller who acknowledges refined classical architecture. Historical cities and towns, ancient fortifications, castles and churches are abundant; each of their stones has a story, and some buildings construction dates count not in centuries, but millennia.
The famous walls of Dubrovnik girdle a perfectly preserved complex of public and private, sacral and secular buildings representing all periods of the city's history, beginning with its founding in the 7th century. They are 1940 meters long with 6 fortresses - some of them might seem familiar if you are a fan of Game of Thrones. Real fans know that Dubrovnik stood in for King's Landing, but wasn't burned to the ground by dragons, as the King's Landing in the popular TV show.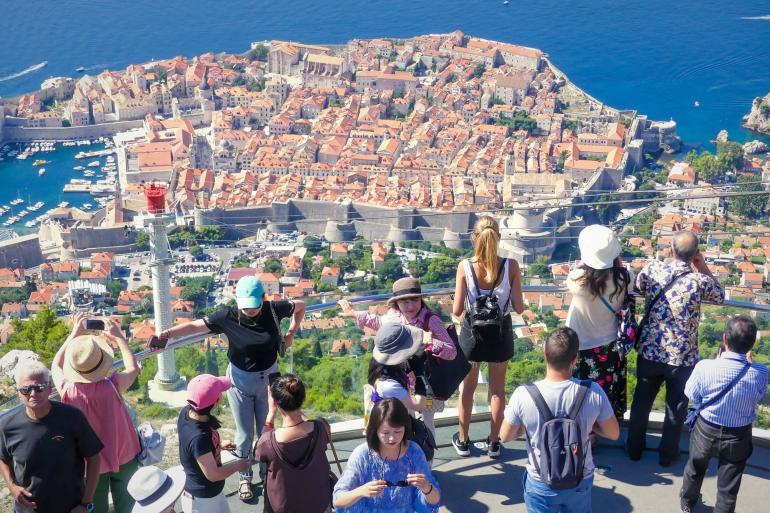 Photo: Andrew Balcombe
Dubrovnik is the most famous city in Croatia, but far from being the only one protected by UNESCO for its architectural and historical value
As of July 24, incoming travellers from the U.S. must produce a negative COVID PCR test taken less than 48 hours before departure. You can still enter the country with a negative test taken before that 48-hour window, but you'll be required to take another test and quarantine upon arrival until you receive the negative results.
Safety rules
Travellers who arrive in Croatia without test results will be required to quarantine for 14 days, but this can be reduced to seven if you test negative in the country after you arrive.
Social distancing and face masks are required in public settings, including on public transportation. Respect all social distancing requirements, and observe a home quarantine if COVID-19 symptoms appear during your stay in Croatia.
Photo: Brch
Plitvice Lakes are best known among the 8 national parks, 2 strict reserves and 11 nature parks of Croatia
Croatia is known as an extremely safe county. In the 2019 Global Finance ranking of the safest countries in the world, the New York-based magazine has published that Iceland is ranked the safest country in the world, followed by Switzerland and Finland with Croatia high up on the list in 22nd place.
Croatia is much safer county than the USA, according to the New York based Global Finance ranking of the world's safest countries
That is significantly higher placing than some famous tourist destinations in Europe; France was placed 36th, UK 38th and Italy at 40th place... For comparison, the USA only made it to 65-th place.
Don't wait - contact RealCroatia via this link and ask for a trip quote.